>>Read this information in Japanese/日本語で読む
[Updated on July 20, 2018]
Movie and the handout of the seminar are available now from this page!
* Contents can be downloaded within the network of school of science only.

* * * * * *
School of Science will hold a Seminar, titled "Methods to refince your scientific paper from an editor's point of view".
In this seminar, an English-native faculty member, who is also experienced editor in Japan will give you some beneficial tips for writing scientific papers in English.
The seminar will provide specific examples of good English sentences and things to avoid when writing English papers and will surely help you to refine your scientific writing skills!
We hope many of you will attend this seminar!!
---
■Date & Time: Wednesday, July 4, 2018, 16:00-17:00
■Venue: Aoba-Science Hall in Science Complex C
■Lecturer: Assoc. Prof. Brian Breedlove (Department of Chemistry, Tohoku University)
■For Students, Researchers, Faculty members
*Free Admission/No Registration Required
*The seminar is conducted in English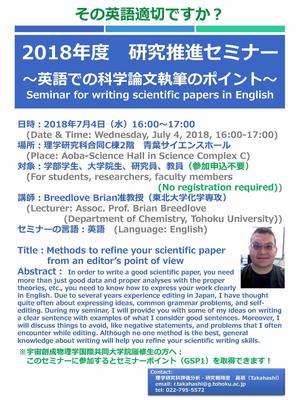 ■Contact:
理学研究科 評価分析・研究戦略室 高橋 (Takahashi)
Tel:795-5572 /e-mail: r.takahashi@g.tohoku.ac.jp