Sendai Airport Station is directly connected to Sendai Airport through an overpass. It costs 650 yens and takes 17 minutes for a rapid train or 25 minutes for a local train, from the airport to Sendai Station.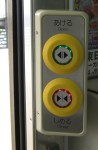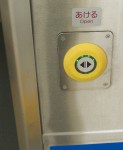 Insert money into a vending machine and touch the button 650 on the screen to buy a ticket. Should you need an English instruction (which is rarely the case), you may touch the English button available on the screen. You should press a button, shown on the right, to open a door when you get on or off a train.
At Sendai Station, catch a subway or a taxi.