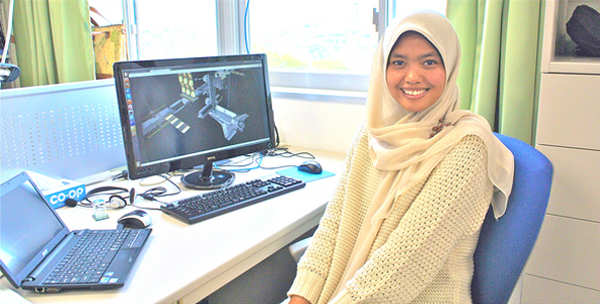 2nd year master's student in Geophysics
Laboratory: Planetary Plasma and Atmospheric Research Center (PPARC)
Graduated: Gadjah Mada University, Indonesia in 2008
Posted Date: Oct. 2012
I applied for IGPAS because International Space Station-Ionosphere, Mesosphere, Upper Atmosphere and Plasmasphere Mapping Mission (ISS-IMAP) let by professors of Department Geophysics attracted me a lot.
Now I am working with the ISS-IMAP/VISI data for airglow observation at Planetary Plasma and Atmospheric Research Center (PPARC). Being a part of one of the biggest research centers for planetary science has given me a wide range of opportunities. I can work with the most recent data, make collaboration with scientists from other universities, attend international conference, and have a discussion with and receive feed backs from experts in my field.
Sendai is a very livable city, a city where you can find most of the convenience of modern life with the warm greeting of friendly neighborhood. So, come join us, experience the cutting-edge research life in one of prestigious universities in Japan!
Sources: IGPAS 2013 Application Booklet