DiRECT (Division for International Research and Educational Cooperation) held an orientation for international students who enrolled in the Graduate School of Science in October, at the Multi-purpose Room, Science Complex C, on Friday, September 29. 28 students from 14 countries attended the orientation, most of which were the IGPAS (International Graduate Program for Advanced Science) new students. The orientation consisted of two sessions; the morning was for the paperwork for enrollment and the afternoon was for obtaining information.
After tiresome paperwork, both new students and the "Supporters" (senior students who have been offering assistance to them since their arrival in Sendai) introduced themselves informally, covering their nicknames & hobbies. When a speaker mentioned a pastime that was favored by another student, the listener called out "I like it, too!" These exchanges continued, making us smile and creating friendly atmosphere.
The afternoon session opened with a welcome speech from the dean of our graduate school, professor Terada. Since there is no entrance ceremony for October enrolling students, formal welcoming speech is intended to make the students feel that this is the day they officially start as a member of this graduate school. Listening to the speech that started with a phrase, "close your eyes and remember the loving faces that assisted you to be here," it seemed to us, students were reminded of what motivated them, and what they want to achieve while staying here.
They are now launching their new research life with colleagues in the department and in the laboratory. We do hope that this orientation encouraged and enhanced them to make a good start, and their days in Sendai will be pleasant and fruitful!
(The slides for the orientation and the relevant links are available at the
website of DiRECT
.)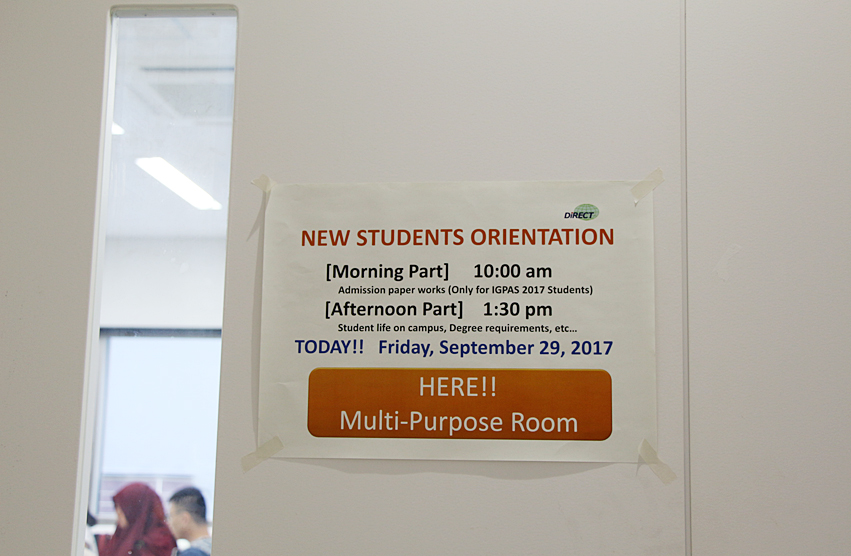 ↑ Click on a picture to make it a slideshow.