International Course
IGPAS(International Graduate Program for Advanced Science)
Application Period & Key Dates
IGPAS 2022
Program begins: October 1, 2022 (2022 Fall Semester)
| | |
| --- | --- |
| Online Pre-Application Period | October 14-November 25 15, 2021 |
| | November 1-November 30, 2021 |
| | February 3, 2022 |
*Dates are subject to change.
How to Apply
Step 1: Find a potential supervisor among the faculty members in the field of your interest.
Applications will not be accepted without the consent of at least one faculty member as a prospective supervisor. The supervisor must be a professor, an associate professor, or a lecturer (senior assistant professor) who is affiliated with or has eligibility to accept students of the Graduate School of Science, Tohoku University. To search for faculty members, refer to the following websites:

-- Graduate of Science, Tohoku University


http://www.sci.tohoku.ac.jp/english/


-- Academic Research Staff at Tohoku University


http://db.tohoku.ac.jp/whois/TunvTopE.html
※The website contains information on all faculty members of Tohoku University. Make sure to select "Graduate School of Science" in the "Affiliation" section when searching by keywords.


-- Departmental websites


Mathematics http://www.math.tohoku.ac.jp/english/index-e.html
Physics http://www.phys.tohoku.ac.jp/en/
Astronomy http://www.astr.tohoku.ac.jp/en/
Geophysics http://www.gp.tohoku.ac.jp/index-en.html
Chemistry http://www.chem.tohoku.ac.jp/english/
Earth Science http://www.es.tohoku.ac.jp/EN/

Step 2: Contact the faculty members directly via email and obtain their consent.
When contacting the faculty members, be sure to:
-- gather information on the faculty members and their field of research in advance by checking out their publications, research papers, and personal websites.
-- include "IGPAS 2022" in the subject line of your email.
-- provide your academic background, interest, and goal in detail.
Step 3: Register online via

IGPAS Pre-Application Form.

CLOSED


* Online form is open from October 14 to November 25 15, 2021.

Step 4: Prepare the required documdnts for the application.
Regarding two recommendation letters, each reference should send Form 5 with a recommendation letter directly to the IGPAS Admissions Office

via email.

Step 5: Send your application to the IGPAS Admissions Office

via email.


All documents should be sent to the IGPAS Admissions Office in PDF attached to the email by

November 30, 2021 JST

.

Please note that you must send the original application documents

via airmail

later after the IGPAS Admissions Office confirms the completion of your application.

* The IGPAS Admissions Office will email you to inform the arrival of the documents along with your application number.
IGPAS Admissions Office
Graduate School of Science, Tohoku University
E-mail: direct*mail.sci.tohoku.ac.jp(Replace * with @)
6-3 Aramaki-Aza-Aoba, Aoba-ku, Sendai 980-8578 JAPAN
Tel: +81-22-795-5829
Selection
Applications will be forwarded to the examining committee of each department. The examiner will inform you of the method and schedule for the examination via email by the middle of January 2022. The examination will be in the form of a written examination and an interview.
The results of admission to IGPAS will be announced on February 3, 2022 on the website.
Application Documents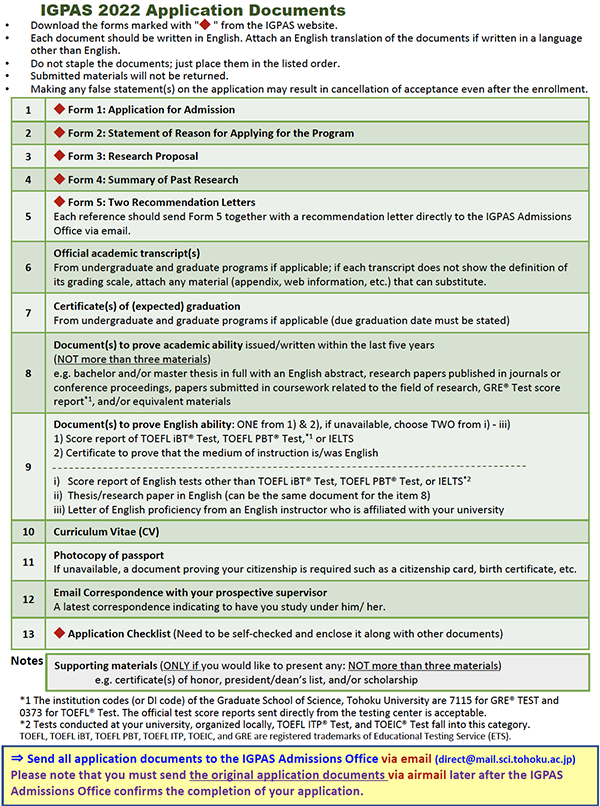 Download Forms (IGPAS 2022)
Application Checklist
*Please enclose in your application.

1 page

Form1: Application for Admission

3 pages

Form2: Statement of Reason for Applying for the Program

1 page

Form3: Research Proposal

1 page

Form4: Summary of Past Research

1 page

Form5: Recommendation Letter
*Required TWO recommendation letters.

1 page
* Making any false statement(s) on the application may result in cancellation of acceptance even after the enrollment.