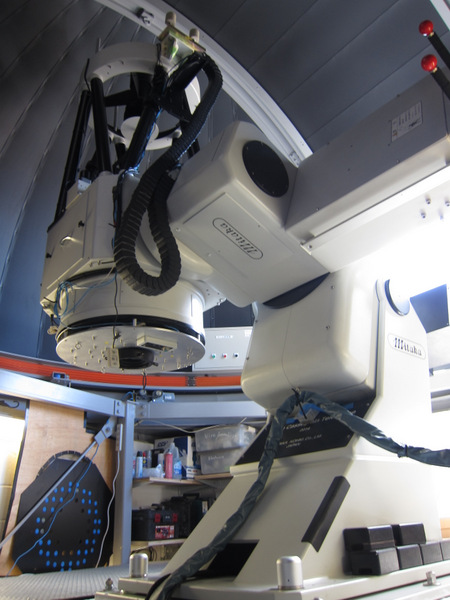 60-cm Telescope; Relocated from Iitate in Fukushima to the Haleakalā summit
We relocated 60-cm telescope from Iitate in Fukushima to the Haleakalā summit in Hawaii this September. Planetary Plasma and Atmospheric Research Center of Tohoku University had conducted the operation of 60-cm telescope at the Iitate Observatory in Fukushima and carried out unique measurement of planetary atmosphere and student education since 1999. However, the spatial radiation doze at the observatory reached up to 6.5 micro-Sv/hour due to the accident of Fukushima nuclear planet caused by the huge earthquake in March 2011. With that effects we had a major difficulty to observe and cloud not contine the telescope operation. Considering observation conditions, we finally concluded to relocate our 60-cm telescope to the summit of Haleakalā in Maui, Hawaii. Thus, we proposed the relocation of telescope to Institute for Astronomy (IfA) of Hawaii University and had a meeting in Maui in November 2011. In this meeting Dr. Guenther Hasinger, the director of IfA, said 'We would like to help the disaster reconstruction through this relocation work', and IfA approved the relocation.
Since then, we have started the project of telescope relocation from Iitate to the Haleakalā summit. We had many complications and spent long time to obtain the permission of dome building construction inside the conservation district in the state park. However, the staffs of Tohoku University, IfA, and companies worked together to overcome these problems, and proceeded the project.
Finally, we completed construction of dome building and the relocation of telescope in the beginning of this September. The new facility namad Tohoku University 60-cm Telescope Facility and also called "T60". We obtained the first light data using T60 with an infrared spectrometer. The opening ceremony of T60 was carried out at the Haleakala summit on September 8th; in addition, Tohoku University and IfA agreed to sign the scientific cooperate agreement for T60 with the Advanced Technology Research Center of IfA, University of Hawaii.
Related Links:
Planetary Plasma and Atmospheric Research Center (PPARC)
http://pparc.gp.tohoku.ac.jp/english/index.html
Institute for Astronomy (IfA) of Hawaii University
http://www.ifa.hawaii.edu/
[Inquiry]

Associate Professor Takeshi Sakanoi,
Planetary Plasma and Atmospheric Research Center (PPARC)
tsakanoi*pparc.gp.tohoku.ac.jp(Please replace * to @.)
Telephone: +81-22-795-6609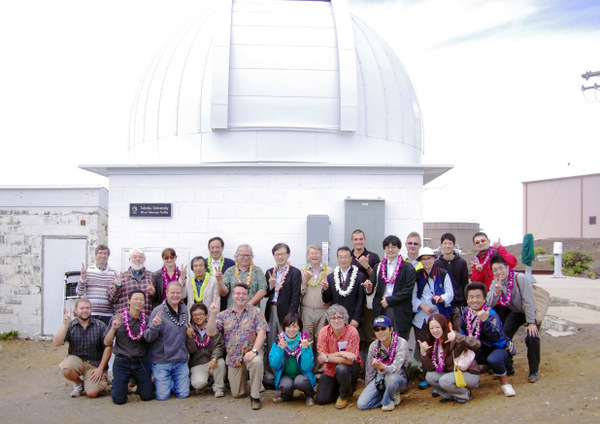 Commemorative photo shooting in front of 60-cm Telescope Facility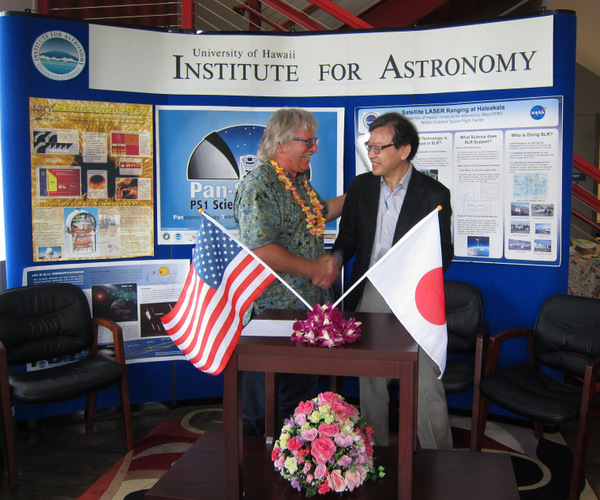 Tadahiro Hayasaka, Dean of Graduate School of Science (right) and Dr. Günther Hasinger, Director of Institute for Astronomy of Hawaii University (left)
Posted on:October 7, 2014