The Jishukai* member organized a concert called "Musicians Assembling for Tohoku region, inviting a honored pianist from the Opera House in Paris" on August 9th.

We invited a pianist, Ms. Vessela Pelovska, from the Paris Opera House and Mr. Katsuki Matsumoto the first violinist in the Japan Philharmonic orchestra. They played duet and co-played with members of the Tohoku University Orchestra. To open this concert, many students, Jishukai members Tohoku University Orchestra members, and volunteers, were involved and took many roles including the publicities, such as making a live appearance on a Television program, and the being receptionists at the hall. I saw many students working hard to organize this concert throughout from the beginning and to the end.

There was a long line in front of the hall. Therefore we open the door early to let them in. We had over 250 audiences.
In the first shift, so many surprising events happened such as: Ms. Vessela and Mr. Matsumoto played duet; Mr. Matsumoto explained us about the Four Seasons by Vivaldi; and while playing the Humoresques, Mr. Matsumoto came down to the audience seats and played.
In the second shift, we had Ms. Vessela as a soloist, Mr. Matsumoto as a concert-master, and the Tohoku University Orchestra together played Piano Concerto No. 19 by Mozart. For the encore, Ms. Vessela solo played 6 piano pieces and the audiences gave great applauses to her.

We distributed the booklet of our school to the audiences; through this concert we hope that everyone become familiar to School of Science in Tohoku University.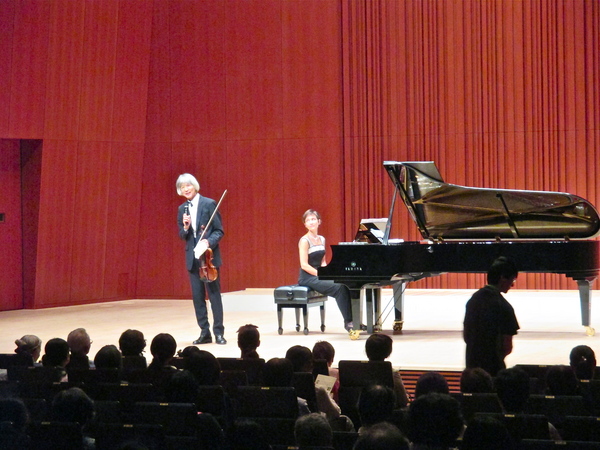 In the first shift, Ms. Vessela and Mr. Matsumoto played duet pieces.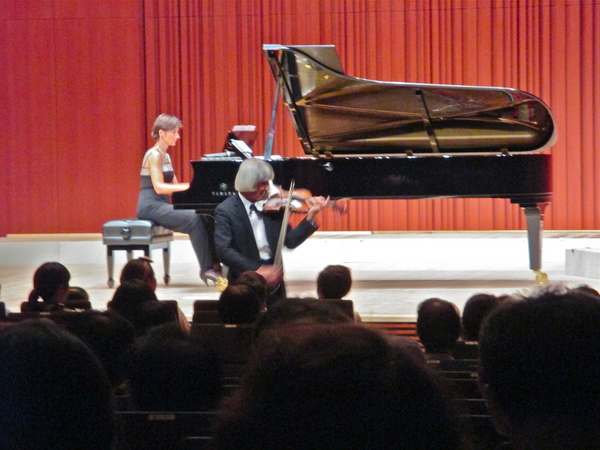 Mr. Matsumoto walked down into the audiences seats while playing.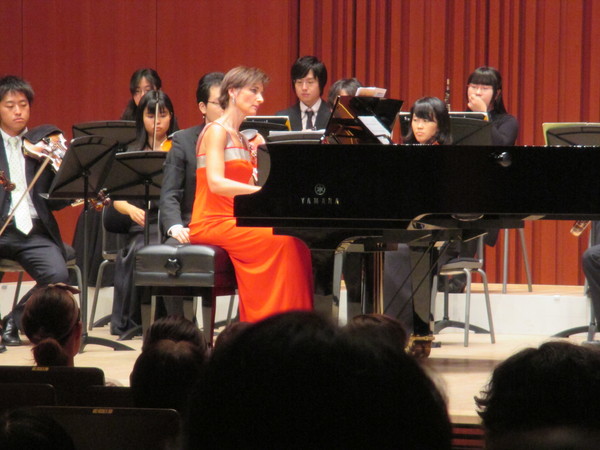 Ms. Vessela playing piano.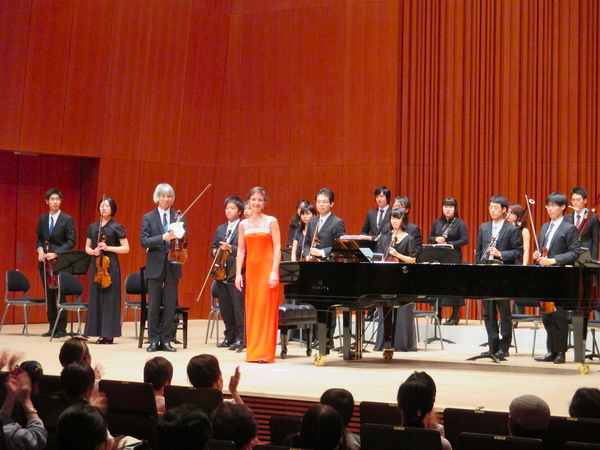 Co-playing with members of the Tohoku University Orchestra, it was a great success!

Program
First shift:
Sir Edward William Elgar, Salut d'amour
Jules Emile Frédéric Massenet, Méditation (Thaïs)
Antonín Leopold Dvořák, Humoresques, Antonio Lucio Vivaldi, Parts from the Four Seasons

Second shift:
Wolfgang Amadeus Mozart, Piano Concerto No. 19

Encores (Sole by Ms. Vessela)
Frédéric François Chopin, No.4 from 24 Préludes E minor
Wolfgang Amadeus Mozart, Piano Sonate Nr.11 A major
Frédéric François Chopin, Etude Op.10, No.12
Aram Il'ich Khachaturian, Sabre Dance (from Gayne Ballet Suite No.1)
Frédéric François Chopin, No. 16 from Préludes B flat minor Op.28-16
Ludwig van Beethoven, Piano Sonate Nr. 14 C major "Moonlight"
---
* Jishukai-group is a Student Organization in Graduate School of Science and Faculty of Science, Tohoku University which organize interesitng events such as concerts, beer garden, and sports events.
Posted on:December 9, 2014