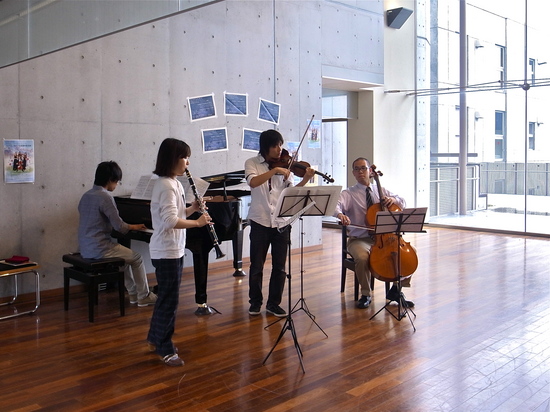 Ensemble Liberta con Brio

On June 12th, the Jishukai-Group* will hold a lunch time concert. Players are "Ensemble Liberta con Brio" that played for the first time last year and were received well.
Everyone can attend at this concert for free. We hope you come airily.

Date: Friday, June 12 0:10 pm ‐ 0:45 pm
Place: Entry Hall, the 2nd floor on Science Complex B building

Program:
From Johannes Brahms, clarinet trio
From Felix Mendelssohn, piano trio No.2
And more

Players: Ensemble Liberta con Brio
Violin, Keigo Sawada
Clarinet, Moeko Takai
Piano, Hirotaka Tanaka
Cello, Ryo Yagizawa

Everyone always can come for free or make your exit, and can take a lunch there.

Poster: PDF
Host: Jishukai-Group
---
*Jishukai-group is a Student Organization in Graduate School of Science and Faculty of Science, Tohoku University which organize interesitng events such as concerts, beer garden, and sports events.
Posted on:June 9, 2015