The Graduate School of Science will offer an incentive stipend to four master course international students who enroll in October 2023 and have passed the "Special Selection for International Students" with excellent performance.
** Two to three of the four recipients will be selected from those from Southeast Asian countries **
  ▶ Info on the stipend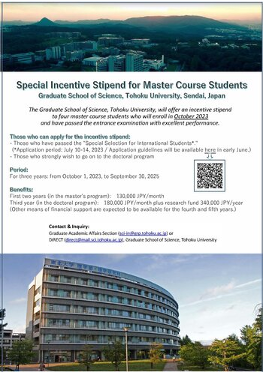 ▶ Application Guide for October 2023 & April 2024 Admission
▷▷ [English digest version]NEW!

[Special Incentive Stipend for three years]
- First two years (in the master's program): 130,000 JPY/month
- Third year (in the doctoral program): 180,000 JPY/month plus research fund 340,000 JPY/year (Other means of financial support are expected to be available for the fourth and fifth years.)

[Additional Financial Support] for the recipients of the special incentive stipend:
(Method of support payment: TBA)
(i) Examination Fee (30,000 JPY, which must be paid by yourself first at the time of application)
(ii) Admission Fee (282,000 JPY)
(iii) 50% of the Tuition Fee (133,950 JPY) for four semesters
*For the tuition fee, please apply for the waiver first. Then, if more than 50% is waived by the university, there will be no support from the graduate school. If your application is denied, the graduate school will cover the fee up to 50% of the tuition fee of 267,900 JPY.
----------------------------------------------------------------------------------
< Key Dates and Notes>
1. Deadline for obtaining approval from a faculty member: Friday, June 30
- First, find a potential supervisor among the faculty members in the field of your interest and contact him/her directly via email to obtain their consent. Applications will not be accepted without the consent of a prospective supervisor. The supervisor must be a professor, an associate professor, or a lecturer (senior assistant professor) who is affiliated with or has eligibility to accept students of the Graduate School of Science. To search for faculty members, refer to the following departmental websites:
- Mathematics http://www.math.tohoku.ac.jp/english/index-e.html
- Physics http://www.phys.tohoku.ac.jp/en/
- Astronomy https://www.astr.tohoku.ac.jp/en/
- Geophysics https://www.gp.tohoku.ac.jp/index-en.html
- Chemistry http://www.chem.tohoku.ac.jp/english/
- Earth Science http://www.es.tohoku.ac.jp/EN/
  
2. Online Application Period: July 10-14
- Examination Fee (30,000 JPY) needs to be paid during the period by credit card.
Click here for the Internet application site
*Guidance on the use of the Internet Application System


3. Examination: Late Julyーearly September
- Examination dates are determined for each department and will be notified to you by your supervisor.
4. Notification of Results: September 8
- Incentive stipend recipients will be notified at the same time
5. Enrollment paperwork: late September (exact date: TBA)
- Via e-mail or in person, depending on the circumstances of your arrival in Japan.
6. Program begins: October 1, 2023 (2023 Fall Semester)
※The following preparation/applications are required in parallel with the exam application.
- COE application: late June (->Visa application: late August)
- Dormitory application: late June-early July
- Tuition fee waiver application: late August―mid-September
[Note] Once you have received approval from your prospective supervisor, please provide DiRECT with his/her name and DiRECT will contact you to discuss how to proceed with the above process.
▶ Contact & Inquiry:
Graduate Academic Affairs Section (sci-in * grp.tohoku.ac.jp) or
DiRECT (direct * mail.sci.tohoku.ac.jp), Graduate School of Science, Tohoku University (Replace * with @)
Posted on:May 16, 2023